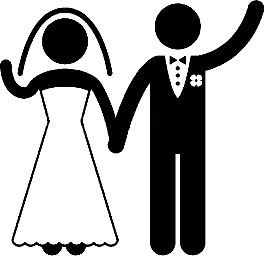 As of  Wednesday September 3rd I have been blessed with 31yrs. of marriage to the one and only woman in my life- my "wife for life" as I like to say!  So, as I was waiting for my  client appointment yesterday I was taken with the idea that there might be some parallels between Marketing, especially "Content" or "Inbound" Marketing and marriage. Lest you think I jest please consider:
 *Marketing and marriage are both supposed to encompass a long range "agenda."  The goals may be different but you are thinking not just about tomorrow or next week but next year and ten or twenty years from now.  Where do we want to be as an organization- and as a couple?
 *Marketing and marriage both require careful and thoughtful planning and at times precise coordination between "departments."  Marriage, if we include the addition of parenting that accompanies it for many, ( five children for us!) needs coordination, careful scheduling, and an allocation of resources.
*Marketing and marriage both need a strong "culture" of thanks and appreciation. Just as clients or referral partners might need an appreciation event or regular thanking,  so  do our spouses.
*Finally, is there a parallel between content in marketing and content in marriage? I believe so.  We do SEO through strategic content driven by research and analytics. It's good to also do some measurement and analysis of  a marriage relationship periodically. What is the depth of the "content" of your relationship with your spouse?